Whether you're just starting out or are already established, a lot of energy goes into building your business. No matter how much you prepare, some circumstances are out of your control. Small businesses can be particularly vulnerable, that's why knowing which cover is right for your business is important.
Depending on your business type or the locations you operate in, you may be contractually or legally required to carry some level of insurance. That's why it's important to consider your business obligations.
Flexible insurance for your industry
We provide cover for thousands of occupations and many types of businesses. Find your industry and learn more about what you can cover for.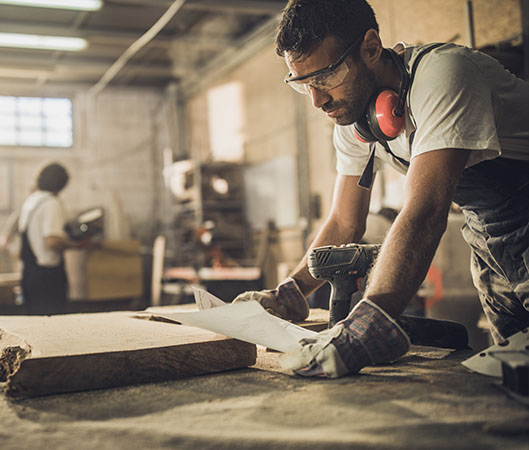 Business Insurance Pack
Flexible cover designed to help protect your small business against the unexpected. From Public Liability cover to accidental damage or theft of vehicles, tools or stocks, choose and combine from a range of 12 insurance covers2 to suit your small business.
Covers for your small business
Every business is different, so we offer a flexible policy to provide cover where you need it most. With our
Business Insurance Pack
, you can select and combine insurance covers you need.
Glass
Covers your shopfront from accidental damage to glass at your premises, including temporary security costs to keep your small business safe while your glass is repaired or replaced.
Commercial Property
Covers your shop or office building, contents and for accidental damage from unexpected insured events, such as a fire, storm, or vandalism.
Business Interruption
Covers your lost income, profits or turnover if your business premises has to close due to unforeseen insured events, like a storm or fire.
Theft
Cover for loss caused by theft of property insured from your business premises, such as your stock or equipment.
Electric Equipment
Covers the cost to repair or replace electronic equipment at your business premises, such as computers, in case of breakdown.
Money
Covers the replacement of money stolen from your business premises during business hours, or outside business hours while locked in a safe or strongroom, in transit or in your custody at a private residence.
Goods In Transit
Helps cover your stock or products from accidental damage, fire or theft while they're in transit anywhere in Australia.
Management Liability
Choose from up to four covers to insure your business against claims of wrongful acts by management, employment practises breaches, theft by employees, or fees incurred if your taxes are audited.
Machinery Breakdown
Covers the cost of repair or replacement of your business machinery if it breaks down.
Why choose us?
Award-winning claims team4

Australian-based Business specialists
Our experts can help you arrange your Business Insurance. Call
1300 131 000
 to speak to a Business specialist now.
Instant Certificate of Currency
Your proof of insurance, Certificate of Currency (COC), will be emailed to you instantly after purchase.
Frequently asked questions
We're here to help
Give us a call, or send us a message
*Conditions apply
Pay by the month (Payment instalments)
Premiums payable by instalments may be subject to minor adjustments (upwards and downwards) due to rounding and financial institution transaction fees may apply.
Range of covers
Acceptance criteria apply to each cover based on the characteristics of your business and the risks you're looking to insure.
Commercial Vehicle Insurance
Commercial Vehicle cover is only available to buy under the Business Insurance Pack if you also buy Public and Products Liability Insurance or Commercial Property under the same policy. If you don't require Public and Products Liability Insurance, we offer a standalone

Commercial Motor Insurance

policy that you can consider instead.
Awards
IBA General Insurer Claims Team of the Year in 2021.

Allianz acknowledges Aboriginal and Torres Strait Islander peoples as the Traditional Custodians of the lands on which we live and work across Australia. We pay our respect to First Nations Elders past and present.




Any advice here does not take into account your individual objectives, financial situation or needs. Terms, conditions, limits and exclusions apply. Before making a decision about this insurance, consider the relevant Product Disclosure Statement (PDS)/Policy Wording and Supplementary PDS (if applicable). Where applicable, the PDS/Policy Wording, Supplementary PDS and Target Market Determination (TMD) for this insurance are available on this website. We do not provide any form of advice if you call us to enquire about or purchase a product.
Allianz Australia Insurance Limited ABN 15 000 122 850 AFS Licence No. 234708 is the insurer of any general insurance products offered, and Allianz Australia Life Insurance Limited ABN 27 076 033 782 AFS Licence No. 296559 is the insurer of any life insurance products offered. Each entity is responsible for any statements and representations made about its products, on this website.